THE 1 CHANGE PLATFORM:
ONLINE RESILIENCE TRAINING FOR
YOUR LEADERS AND EMPLOYEES
Increase resilience, build capacity, and optimize performance
in all aspects of life – 1 change at a time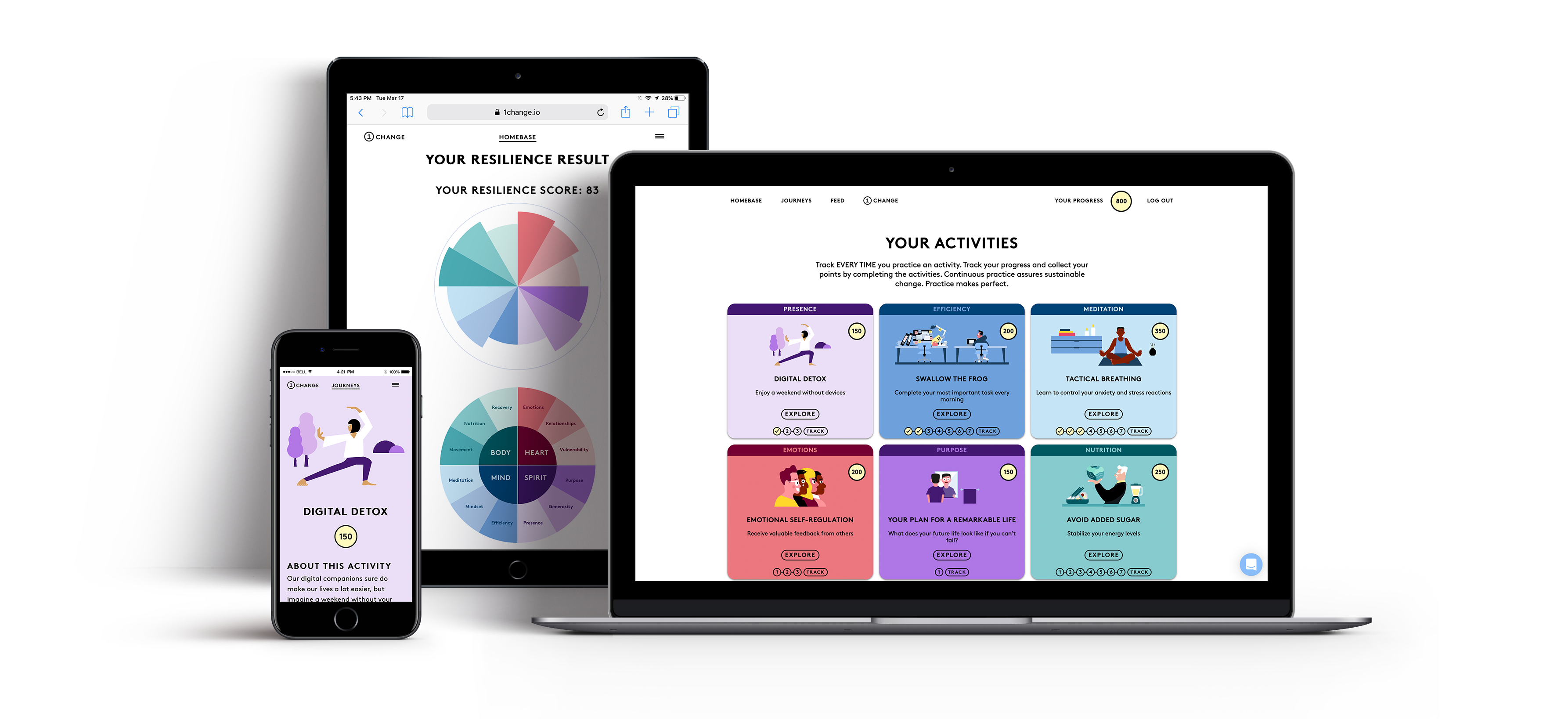 48 QUESTIONS RESILIENCE TEST
100+ EXPERIENTIAL ACTIVITIES
IMPROVE YOUR
PHYSICAL CAPACITY
Explore fun workouts, fuel your body with nutritious food, and experience the power of high-quality sleep
STRENGTHEN YOUR MIND
Sharpen your efficiency, shift towards a growth mindset, and dive into meditation practices
LEAD INTELLIGENTLY
FROM THE HEART
Learn to master your emotions,
engage openhearted in your relationships
and own your vulnerabilities
NOURISH YOUR SPIRIT
Define your life purpose, show generosity towards others, and discover the power of presence
EMBARK ON CUSTOMIZED COMPANY JOURNEYS
Boost your company culture and encourage purposefully interaction amongst employees
OUR RESILIENCE MODEL
We have developed a Resilience Model with 12 holistic journeys that are centered around Body Heart Mind, and Spirit. Our holistic approach is designed to empower those who want to be better equipped for volatile times and be inspiring leadership role models in all aspects of their life
Body
Your BODY is an incredible source of energy and intelligence! Walk n talks, regular workouts, and challenging yourself physically will increase your level of Movement. Healthy Snacks, a balanced diet, and staying hydrated will improve your Nutrition. Better sleep, regular daily breaks and taking time for yourself will boost your Recovery.
Heart
Your HEART is ready to sprout! Being open and trusting the guidance of your heart will help you to better feel and regulate your Emotions. Expressing your needs, being a patient listener, and building trust will strengthen your Relationships. Building courage, being open to feedback and stepping out of your comfort zone will open up for greater Vulnerability.
Mind
Progress and growth opens your MIND! Meditation will expand your awareness and give you a balanced state of mind. Adapting a growth Mindset will make you to see challenges as opportunities to grow. You will show more grit when things get tough and appreciate the insights from making mistakes. Getting the most important tasks done, avoiding distractions, and focusing on your long term goals will improve your Efficiency.
Spirit
SPIRIT is the driving force of your growth! Less multitasking, regularly switching off your devices and being truly there for your loved ones will increase your Presence. Doing good things for others, donating time for social impact work and taking in praise from others will increase your level of Generosity. Making a difference in your community and taking time out to reflect on the deeper meaning of life will bring you closer to your Purpose.
HOW RESILIENT ARE YOU?
Measure your existing resilience and capacity in all aspects of life.
24 Questions, 4 Minutes, Immediate Results
READY TO IMPROVE YOUR RESILIENCE?
Invest in your professional and personal growth – become your best self.
Get your 6 months access for 49 USD (0,27 Cents per day).